---
Mt. Fuji Shizuoka Airport serves Japan with domestic flights to four cities - Sapporo, Fukuoka, Naha and Kagoshima – as well as regularly scheduled international flights to Seoul and Shanghai and numerous charter flights.

Located in a site that offers superb transportation access, travelers can reach Mt. Fuji Shizuoka Airport in approximately 40 minutes from Shizuoka City by car, about 50 minutes from Hamamatsu City by car and within 10 to 15 minutes from the nearest expressway interchange.
Convenient airport access buses from Shizuoka City, Hamamatsu City and other areas are also available.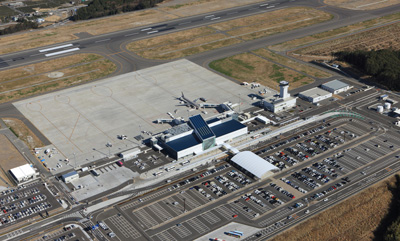 Distinguishing Characteristics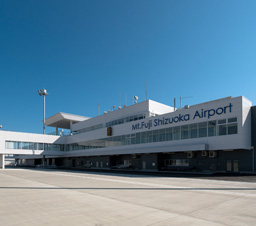 The nearest airport to Mt. Fuji, offering unparalleled views during take off and landing
Located close to the center of Shizuoka Prefecture
Can be reached quickly from the Tomei Expressway
Terminal building based on universal design ensures ease of use by all travelers and visitors
An environmentally friendly airport where the forest environment is being restored using local species
Location

Makinohara-shi, Shimada-shi

Hours of Operation

7:30~22:00

Regular Domestic Service

Sapporo, Fukuoka, Naha, Kagoshima

Regular International Service

Seou, Shanghai, Wuhan, Ningbo, Wenzhou, Nanjing, Tianjin, Xian, Nanning, Zhengzhou, Changsha, Hangzhou, Taipei, Yancheng, Shijiazhuang

Date Opened

June 4, 2009

Type of Airport

Locally managed airport built and operated by Shizuoka Prefecture

Runway

Length 2,500m, Width 60m

Controlled Area

Airport Proper Approx. 190ha Total Area Approx. 500ha

Aprons

Eight berths

Passenger Terminal Building

Operation:Mt. Fuji Shizuoka Airport Co., Ltd.
Total Floor Space:About 11,400m2

Parking

Free parking lot for approximately 2,000 vehicles